"Ten years ago, I commissioned Cietha Wilson to do a portrait of my four children, in the hope that it would truly be something that I could have as a remembrance of their childhood years. I gave her a favorite photograph of the four of them, along with two cats. It was asking a lot to paint all of this accurately I thought, but she did a masterful job, creating a piece that I treasure, and I know they will treasure it too after I'm gone. It hangs in my living room, as a constant wonderful reminder of the past, which, after all, is only a fleeting moment ago. Now, I'm thinking I will have to get prints made for each of them, so they can all share the joy of having it. It's that special to me!"
~Stephanie Lusak
---------------------------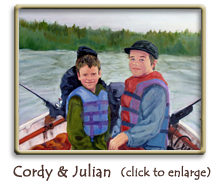 "Cietha's portraits are wonderful! She has painted all six of my children. She captured the essence of each of their personalities, body uniqueness, and the coloring and shading of their skin and hair. She is especially skilled at painting hands! I cannot recommend her highly enough."
~Gwen Hardage-Vergeer
---------------------------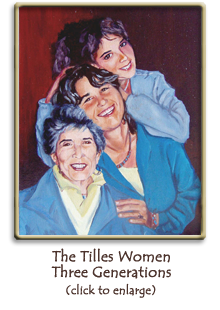 "I commissioned Cietha Wilson to do an oil painting from a photo of my mother, daughter and myself. It was great to work with Cietha on the painting. She consulted with me on the color changes and said she was really enjoying being with us and "getting into our skins." I gave it to my mother for her 85th birthday and she was touched and delighted. We live on opposite coasts, so she is grateful to have us in her home in this treasured piece of art."
-Sandra Tilles

---------------------------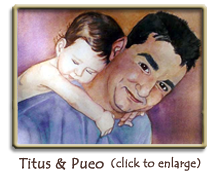 "I feel very lucky to have been able to commission Cietha Wilson to do paintings of my children and grandchildren. Maybe it is because she spends so much time "with" her subjects that her portraits are so perceptive. As well as their likeness, Cietha captures their personality…maybe it is the twinkle in their eye, the slight tilt of the head, the beginning of a laugh line, and the painting reveals the person I know. I particularly love her ability to paints complexions so well; her skill in using light is phenomenal. Cietha's paintings speak for themselves; it's my honor to do so as well."
-Christy Orion
---------------------------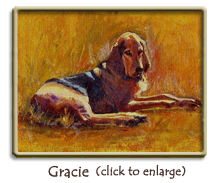 "I just love the portraits Cietha painted of my Gracie-girl. She captured her personality perfectly and I'll treasure them forever. Thank you Cietha!"
- Julie Greene





---------------------------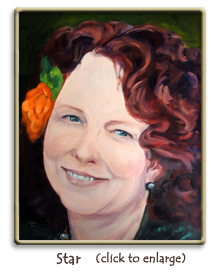 "Cietha Wilson...
Artist, teacher, friend and neighbor.
"I've had the pleasure of knowing Cietha for much of my adult life. To know Cietha is to know her art, which she has pursued with passion for most of her life.
"We both live in a small community on the north coast of California. It is the type of community where everyone knows each other and the children are like nieces and nephews to us, along with students in Cietha's case, since she taught the younger elementary kids since we started our school 25+ years ago.
"Cietha has captured the images of many of our neighbors and the feeling of community events for so long, she has also functioned as a "cultural anthropologist", as well as an artist. My family treasures her artwork, whether it is the image of a loved one or a representation of nature.
"Having a piece of Cietha's art in your home will bring you a lifetime of pleasure and treasured memories."
- Keith Rashall
---------------------------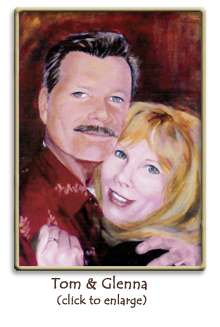 "I'm always having to come up with unique gifts for my parents who have everything. When I found out that Cietha did commission work I knew that this was something my parents didn't already have. It was fun going through all my photos looking for the right one. Cietha wanted to make sure that the painting was exactly what I envisioned and asked for my input during the process. When I first saw the painting I teared up! It looked exactly like the photograph. This was a personal and meaning gift that can also be passed down."
- Denise Reid