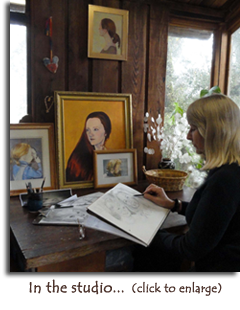 Cietha Wilson's studio is in Northern California's spectacular Lost Coast on the border of Mendocino and Humboldt Counties. She lives off the grid with her husband, their energetic springer spaniel, and a very laid-back tabby cat.
From the time she could hold a pencil Cietha made drawings of people. She was fortunate to have parents that encouraged her interest by arranging for her to be tutored at an early age. Her first oil "portrait" from a photo reference was done with the help of this tutor when she was eleven years old.
Now, after spending more than 30 years dividing her time between painting and teaching, Cietha is able to devote all her energy to painting full time. She is used to working in many mediums, but prefers to use oils for their time-proven longevity.
Cietha belongs to the Southern Humboldt Art Association, the Portrait Society of America, and the Humboldt Arts Council. She was a member of The Mateel Arts Cooperative Gallery, and is a supporter of the National Museum of Women in the Arts. She has been an exhibitor at "Arts Alive!" since its inception in Humboldt County and a participant in Open Studios. Her paintings are in various private collections throughout the United States.
Inspired by many well-respected artists, both living and dead, Cietha is a life-long learner on a constant quest for excellence.
Although I enjoy painting many subjects, painting people has always been my greatest love. Painting is like meditation for me as it requires complete focus. I love the personal connection of working directly with a sitter. But because I live in a remote and rural area I find that painting from a favorite photo is often a more convenient choice for my clients. Also, a photograph can capture a special moment that can then be preserved forever in a painting.
A compelling portrait must not only fulfill the demands of achieving a likeness, but must also be good art. My aim is to create an arresting composition that will satisfy both goals, as well as satisfy the client.
A portrait is a timeless treasure. It will become a family heirloom connecting generations.